BACK

Listen to:

Fanfare
(MP3, 1 MB, 1:00)

King Morpheus, Nemo, Flip, & The Princess
(MP3, 5 MB, 5:40)

Dr. Pill & Adventure
(MP3, 4.5 MB, 4:45)

Farewell
(MP3, 1 MB, 1:00)

Download "C" Score
Download Non-C Score

Make a Purchase

Instrumentation:
(Full Orchestra)

2 Flutes
2 Oboes
2 Clarinets (Bb)
2 Bassoons

2 Horns (F)
2 Trumpets (C)
2 Trombones
1 Bass Trombone
1 Tuba

4 Timpani
1 Glockenspiel
1 Piano (opt.)

Violins 1
Violins 2
Violas
Cellos
Basses

Instrumentation:
(Chamber Orchestra)

Fl.,Ob.,Cl.,Bn.

Hn.,Tpt.,Tbn.,B.Tbn.

Perc: Glock., B.D.

Strings

Scores in C OR Non-C

Total Timing: 12:00

BACK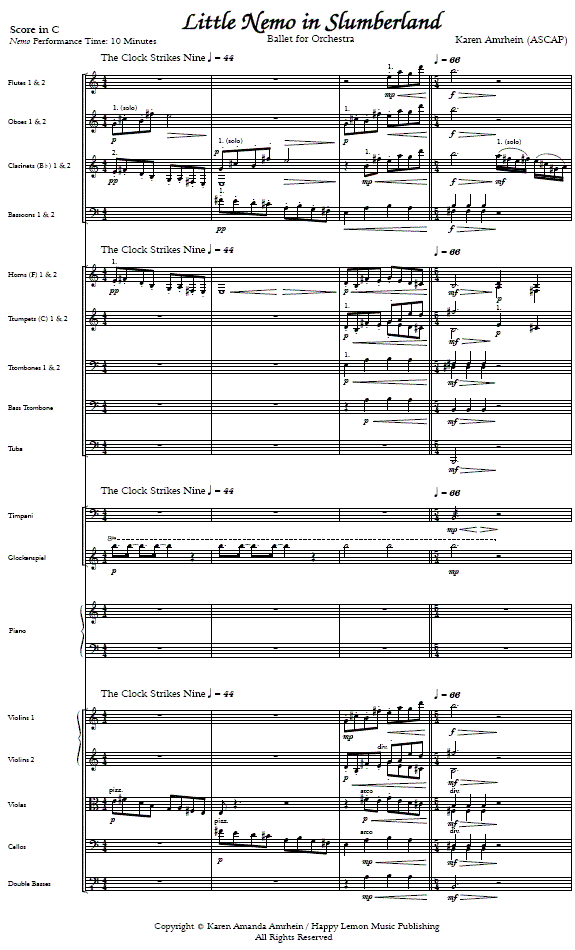 Little Nemo in Slumberland is based on the innovative comic strip by Winsor McCay which ran from 1904-1915 and depicted the fantastical nightly adventures of a little boy whose dreams take him to the realm of King Morpheus.
The ballet / tone poem is prefaced with a Fanfare for trumpet quartet, followed by the clock striking nine and the introduction of the principal characters (King Morpheus, Little Nemo, Flip, The Princess, and Doctor Pill), and then Nemo's Adventure. After Nemo (inevitably) falls out of his bed with a crash, the ballet concludes with a gentle chiming of the clock, and a Farewell for trumpet quartet.